Marketing on social media is cheap and enables direct and quick communication between businesses and customers.

Let us help you get online
Social Media Marketing

One of the most cost-efficient digital marketing methods used to  increase your business visibility. Implementing a social media strategy will greatly increase your brand recognition since you will be engaging with a broad audience of consumers.

Social media allows you to connect with your target market, prospects, and customers at any time.
You can use this as a way to instantly inform your customers on current promotions, special offers, new products, and more.
Step 1
PREP & LEARN
YOUR GOALS
Step 4
FINAL APPROVAL,
TESTING, & LAUNCH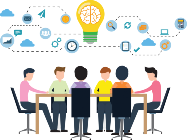 Step 2
RESEARCH & STRATEGIZE
A SOLUTION

Step 3
DEVELOP YOUR PROJECT